Frequently Asked Questions
You will find answers to all of your most common Electrical Services related questions located here.
How safe are 2-prong outlets in older homes?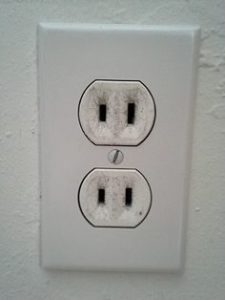 For proper grounding and to ensure safety, it is highly recommended that all older 2-prong outlets be replaced with modern 3-prong outlets. Most modern electronic devices now come with a 3-prong plug so that the device can be properly grounded. Also verify that your wiring has a ground to connect to a 3-prong outlet. With out it, it can be a safety issue.
I have Aluminium wiring in my home. What can should i do.
Aluminum Wiring Can Be Hazardous, Here's What to do About It. The wiring itself isn't a problem; aluminum conducts electricity safely. The trouble is at the connections. Completely rewiring your home is an option in most situations but it means tearing into walls and ceilings.
What type of payments do you accept?
We accept, Cash, Cheques, E-Transfer and Direct Deposit.
What are your payment terms?
Our payment terms defers from customer to customer, size and length of project, materials needed to order. Basic terms, COD. Others percentage of upfront deposit.
Do i need to apply for an electrical permit myself?
No, we take care of all electrical permits for you and your project.
Is there a difference in meter bases?
Yes, There are three types. Overhead only, Underground only, and Overhead/Underground combination bases. However, combination boxes are not recommended for Underground installations because of their limited wire space.
Can my 100Amp panel be upgraded to 200Amps?
I'm building a new home, when do i schedule you to start the roughing?
We usually come in after the HVAC and Plumbers finish their roughings. If we go in before them, they will have a hard time finding areas to pass because my electrical wiring is in the way.
What about outdoor lighting?
We offer a variety of lighting products including decorative colonial, cobra head, directional floodlights, and security lights. We can customize plans to fit any lighting need.
Do you replace old electrical water heater with electrical baseboards?
Yes we can. We can replace them with electrical baseboards based on room size and with programable digital thermostats.
No more space in my Electrical Panel. What can i do?
You have choices. First you need to verify if your service panel is old or not. If its old, chances are, you will be paying a lot for breakers or they are obsolete. Second, if your panel is within age, we can install twin breakers, and free some space for the new breaker. Third solution, install a sub panel.